Sourdough bread has taken the internet by storm. There's not a day that goes by without seeing someone making another loaf. But I do not blame them one bit. Sourdough bread is amazing! There are many different ways to make sourdough bread and I do not claim to be an expert. But I have figured out one way that works for me and so I am sharing that with you today.
No Knead Artisan Sourdough Bread
I used to make sourdough bread years ago before we started the GAPS diet in 2020. Now that we are transitioning off of that strict diet, sourdough bread is one of the foods we have been able to add back into our lives regularly… It makes me really happy!
So, I got a sourdough starter from a friend and have been honing a good recipe ever since. Here's the recipe that works for me:
Ingredients:
2 ⅓ cups active sourdough starter
3 ⅓ cups all-purpose or bread flour
1 cup filtered water
1 tablespoon salt
Utensils:
large mixing bowl
scoring blade or sharp knife
2 tea towels
parchment paper
dutch oven
banneton basket (optional).
Method:
Feed your sourdough starter 4 hours prior to mixing up the loaf of bread. If you do not have a sourdough starter already there are places to order them online or you can also look for one on Facebook marketplace… or ask your friends! 
When your sourdough starter is active and bubbly, measure it out into a large mixing bowl.
Mix in the water, flour, and salt until just pulled together. Cover with a damp tea towel and let rise for 5-12 hours. I usually leave it overnight or out all day to work again in the evening.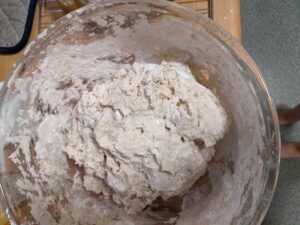 After it has risen and doubled in size, begin stretching and folding. To stretch and fold the bread simply slide your hand down one side of the bowl and pull the bread dough up from the bottom as high as it will go out of the bowl without breaking. Then fold that piece over across the rest of the dough in the bowl. Turn the bowl a quarter turn and pull then fold again. Repeat this until you have made it entirely around the bowl.
Continue stretching and folding the bread in this way at intervals of 15 minutes for the next 3 hours. This does not have to be exact. 
Once the dough is stretchy and elastic, flour a tea towel inside a mixing bowl and place the bread dough inside the floured tea towel. Be sure to tuck in any seam that is formed from lifting the dough into the bowl. You can also use a banneton basket for this step if you have one.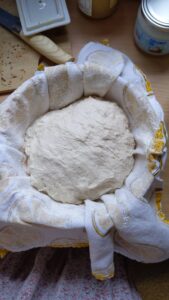 Cover the dough with a very damp tea towel and place in your fridge. Leave it in the fridge for at least 3 hours, but you could leave it for much longer and it would still be good. The fridge temperature slows down the fermentation and keeps the bread from getting over fermented which would result in a flat loaf of bread. 
After 3 hours, preheat your oven to 500 degrees fahrenheit and place the dutch oven with the lid off inside. If you don't have a dutch oven to use, place whatever baking dish you will use in the oven to heat up. 
Remove the bread dough from the fridge and flip out onto parchment paper. Score the bread however you would like. Remove your dutch oven from the oven and place the bread inside the dutch oven by picking up the parchment paper underneath. Place the lid on the dutch oven and return to the oven.
Bake at 500 with the lid on for 30 minutes.
After 30 minutes has elapsed, remove the lid from the dutch oven and continue to bake. Lower the temperature to 350. Bake at 350 for 20 minutes. 
After 20 minutes, you should have a beautiful, gold-brown loaf of sourdough bread. Remove it from the oven and allow it to cool on a cooling rack before slicing it open to check out those air bubbles. Enjoy it with lots of butter, it aids in digestion.
I think the trick to this recipe is chilling the bread in the fridge beforehand and using the dutch oven. I was going to say that you can do it without a dutch oven just as well, but you really can't. You can make it without a dutch oven, on a baking tray or something, but it won't be exactly the same. The way that the dutch oven heats up beforehand gives the bread that nice, crusty outside and keeps the inside fluffy.
We have really been enjoying this recipe and I hope you will too. Give it a try and let me know how it goes.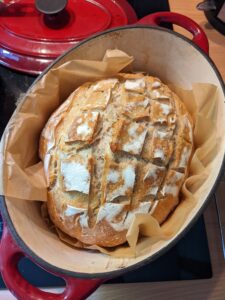 More Recipes:
GAPS Peanut Butter Cookies

Instant Pot Biryani

DIY Water Kefir